ACL Injury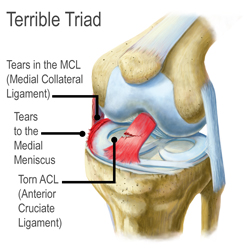 The human knee contains four types of ligaments. The anterior cruciate ligament (ACL), posterior cruciate ligament (PCL), medial collateral ligament (MCL) and the lateral collateral ligament (LCL). The cruciate ligaments located down the center of the knee, control the forward and backward movement of the shin. The ACL and PCL are arranged in a crossed formation. The medial and lateral collateral ligaments control the stability of the inner and outer knee, respectively.
ACL tears are one of the most common knee injuries with over 100,000 ACL tears in the US occuring annually. Most ACL tears are a result of landing and planting in sports where pivoting happens either with or without contact. Complete tears require surgery as the ACL is crucial for stabilizing the knee when turning or planting. Reconstruction is most commonly done by autograft, meaning the tissue used for the repair is from the patient's body. The two most common sources for tissue are the patellar tendon and the hamstring tendon.
Tearing of the ACL can sometimes be a part of a knee injury known as the 'terrible triad'. This consists of the simultaneous tearing of the ACL, MCL and medial meniscus.
Women have been known to suffer ACL injuries more frequently than men. Current research gives some explanation for this. The joint which the ACL passes, along with the actual size of the ACL, is significantly smaller in women than in men. This makes it more susceptible to damage. Along with these aspects, women tend to not activate their hamstring muscles as much as their male counterparts during certain movements causing less stability in the knee joint.
Ligaments are elastic bands of tissue that connects bones, providing stability and strength. Ligaments are typically torn through sudden twisting movements when the knee and feet don't cooperate with each other. Although pain isn't always immediate, a torn ligament can be heard, very similar to a popping sound.